Exfoliating Bump Scrub & Ingrown Hair Treatment Pad Set
Product Price
$18.99 $8.99
Product Review Score
4.64 out of 5 stars
213 reviews
When you order through these links, we may earn a commission at no additional cost to you.
Additional Product Details
RAZOR BUMPS AND INGROWNS BE GONE – Tired of embarrassing, uncomfortable, irritated post shave skin? We have the perfect silicone exfoliating body scrubber for you. Dylonic ingrown hair treatment brush stops ingrown hairs and razor bumps (scientifically known as pseudofolliculitis barbae) in their tracks! The ingrown hair treatment brush serves as a great after waxing skin care treatment and as a pre shave exfoliator for women and men. The brush is similar to ingrown hair pads, but less wasteful!
SILKY SMOOTH SKIN, JUST A BRUSH AWAY – Double the function, double the results! Not only is Dylonic body exfoliator scrubber an affordable, chemical-free ingrown hair and razor bump treatment, but it also makes an excellent exfoliator! Gently massage problem areas to reveal soft, radiant skin. Serves as a strawberry legs treatment for women and is a great exfoliating scrub for bikini area and armpit scrub!
LIGHT AND GENTLE - Dylonic combines customized comfort and exfoliating effectiveness with bristles that are both firm and flexible. Always start with very light pressure body scrubs, moving your brush in straight lines against the hair's grain. It's great in particular for bumpy skin treatment.
EASY-TO-HOLD, ERGONOMIC GRIP – Dylonic fits so perfectly in the palm of your hand that you may think it was custom-made body exfoliant just for you. Simple and comfortable to hold no matter where you need ingrown hair relief and skin exfoliator for body.
LOVE IT OR YOUR MONEY BACK – We can't wait for you to feel more confident and comfortable in your own skin now that you won't have to worry about unsightly red bumps all the time by exfoliating body with this new addition to your bath and beauty products for women and men. But, if for whatever reason you feel like Dylonic isn't for you, that's ok. Every purchase comes with our 100% money-back guarantee.
Our Policies
Secure Checkout

Guaranteed safe & secure

Easy Returns

Fast & easy product returns
More options on eBay...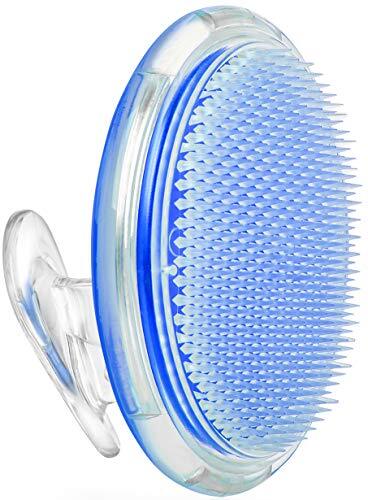 Dylonic Exfoliating Body Scrub Razor Bump Brush + Ingrown Hairs Treatment Pad...
When you order through these links, we may earn a commission at no additional cost to you.